■ visión de conjunto
TOPSFLO micro diaphragm liquid /vacuum pumps are based on a simple principal,the circular power from the motor is converted into oscillating movement by aneccentric, which moves up and down its central point, this motion is then transferredto a diaphragm by means of a connecting rod, an elastic diaphragm, which in conjunction with an inlet and outlet valve creates a pumping action.
The TF30D Series offers multiple component configurations allowing them to be used for either vacuum operation, liquid transfer, or alternating operations.The innovative, compact design incorporates leading edge technologies that allow it to operate harder, quieter and longer, reliabler, highly efficient.
TF 30D pumps can be mounted in any position and can deliver up to 1L/min depending on the model and will operate against pressures of up to 1 bar.
Features:
● Small and powerful
Micro design and maximum performance resulting from built-in technology are the outstanding characteristics of this product.
● Self-priming and excellent for pressure
Sophisticated diaphragm technology and precise valve structures enable performances from 8.85 in .Hg suction and 14.5 PISG pressure.
● Dry running, durable and maintenance free
The carefully considered design of these pumps allows them to be run dry and ensures safe operation and a long life even under the most severe conditions.
● Lasts Reliably Longer
Using the advanced diaphragm elastomer and superior brushless motor design sets the highest benchmark for service-free operation that exceeds 10,000 hours.
● Uncontaminated flow
No contamination of the media due to oil-free operation
● Little vibration
Because of leading edge technologies, top quality bearing, superior brushless motor
● High level of gas tightness
thanks to stress-optimised structured diaphragm, newly-designed valves and sealing systems, precise placement of the pump head
● Extreme chemical resistance
The use of chemically resistant materials optional such as PTFE FKM or other ,material combinations for the parts which allows the corrosive gas to be pumped.
● Optimal solution for your application
A wide standard range of materials, motors , voltages configurates multiple components system selected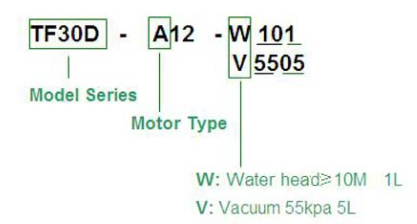 A Motor- Premium duty brush DC motor, lifetime 3,000hours

(Note: other lifetime choices also available: B Motor -1500hours normal brushed; C or D Motor- 15000hours coreless brushless; H Motor- 10000 brushless.)
Application:
The versatility of TOPSFLO pumps allows a wide field of applications to be covered. Over many years our pumps have proved themselves in the following areas:

Industrial vacuum applications
Portable Analytical Instruments
Medical Diagnostic Equipment
Environmental/water treatment
Food/ toxicology
Laboratory
Cleaning industry
Printing
Fireplace
■ Especificaciones
| | | |
| --- | --- | --- |
| 1 | Motor Type | Cepillo de motor DC |
| 2 | Max flow rate | water:1L/Min, gas:5L/Min |
| 3 | Water lift | ≥10M , Max vacuum: 55Kpa |
| 4 | Voltage | 6V/12V/24V |
| 5 | Ideal Life Time | 3000 Hours |
| 6 | Functions | Puede funcionar en seco, autocebante |
| 7 | Pump Theory | Diaphragm pump |
| 8 | Ambient Temperature | 41 to 158 F(5 to 70C) |
| 9 | Use Place | Indoor |
| 10 | Media: | La mayoría de líquidos y gases |
| 11 | Noise Class form 1M | 50dB /Max |
| 12 | Working Mode | Continuo o interrumpido |
| 13 | Inlet | OD 4.2mm/ID 3.6mm |
| 14 | Outlet | OD 4.2mm/ID 3.6mm |
| 15 | Hose suggestion: | ID 4.0mm |
| 16 | Dimension | 80mm*31mm*58mm |
| 17 | Weight | 220 g |
| 18 | Materials | pump head Nylon membrane EPDM / PTFE valve EPDM / FPM |
■ parámetro
Model
Bomba de liquido
Bomba aspiradora ( only vacuum reference TM30B-A12 )
Voltaje nominal
No-load Current
Cabeza máxima
Vacío máximo
Flujo máximo
(Item Number)
(Item Number for mix-usage)
(Vdc)
(A)
( M )
(KPa)
(L/min)
TF30D-A
TF30D-A12-W101
TF30D-A12-V5505
6 /12 / 24
0.4/0.24/0.15
≥10M
-55
water : 1 gas : 5
■ curva & dimensión
Dimension: